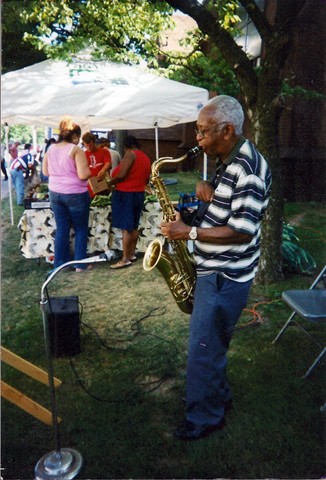 Ken Carter had a stroke on July 4, 1991 which left his right side paralyzed. He had played in Jazz bands up until this time so was devastated that his music days appeared to be over.
In July of 1992 a music friend gave him an adapted saxophone to play with his left hand and it is one of the only ones in the world.
Ken practiced 8 hours a day. The Hartford Courant did a feature article about him 1993 and then he became "famous"!
He played for many groups in the local area and our support group and has been a member since 1994.
In 1995 he was asked to be a "Stroke Spokes Person" for the American Stroke Association in Dallas. He spent many years traveling and playing at meetings through out the country and giving inspiration to stroke survivors.
He played at many medical meetings and amazed the doctors with his ability to live a full and happy life after a devastating stroke.
He continues to volunteer and encourage stroke survivors that life continues after a stroke although it may be different than the life they had planned.